This gorgeous Nativity stake lets you celebrate the reason for the season in a beautiful way. Our Solar Nativity Scene Silhouette Garden Stake depicts the classic scene celebrating Jesus'birth. The manger is topped with a single solar-operated star that lights up after dusk.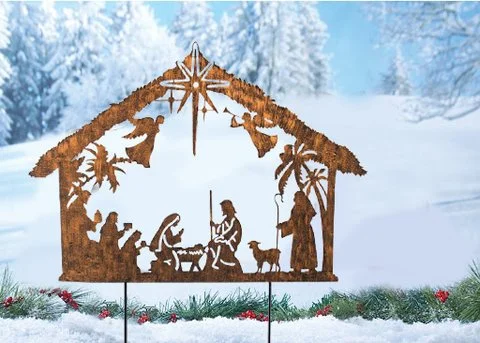 The intricately laser cut metal design offers great detail in this inspiring garden art. Mary and Joseph tend to the baby Jesus while the three kings watch over and angels fly above.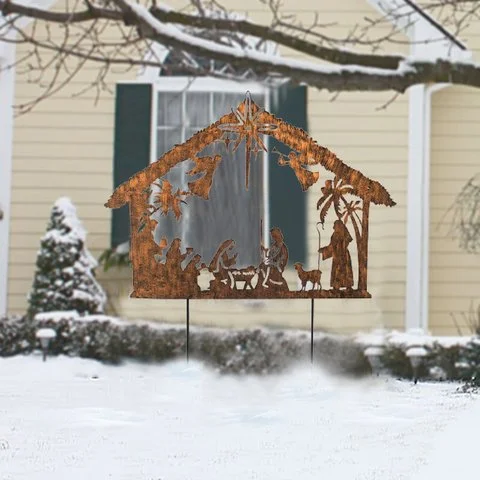 Place this in your garden or flower bed where it will get sun during the day to power the solar star. A simple bronze finish adds to the serenity of the scene.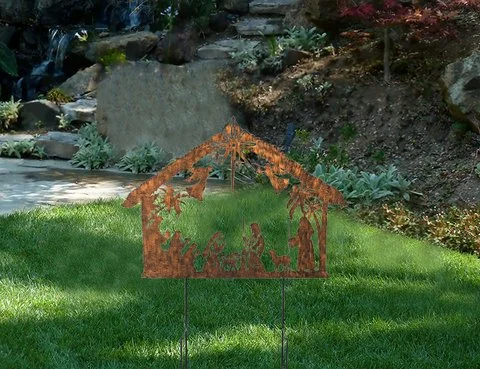 *Laser cut metal nativity silhouette sculpture is a beautiful reminder of the reason for the season
*A single solar light powers the North Star at the top of the manger
*Classic scene shows Mary, Joseph, Jesus, the three wise men, animals and angels
*Stakes into the ground in yard or garden; so easy!
*Flat garden sculpture is easy to store in the off season
*23"L x 1¼"W x 22"H
*Made of metal, the materials are weather-resistant and outdoor safe.
Add a spiritual element to your holiday garden with this Solar Illuminated Nativity Stake.
Watch as the star illuminates the nativity scene after sitting in the sun all day.
Allow the stake to get 6 hours of direct sunlight to ensure a full charge. When fully charged, the stake should stay lighted for 6-8 hours.